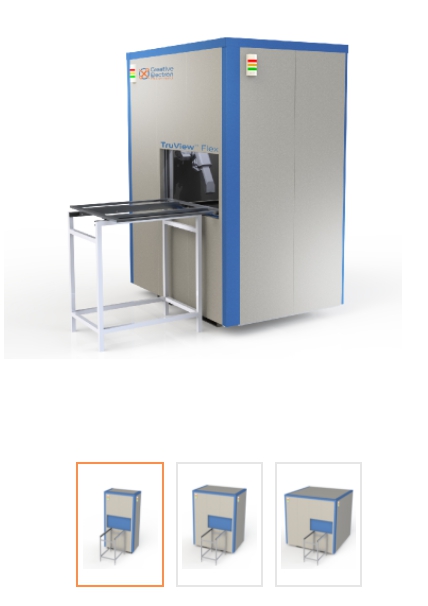 TruView™ Flex X-ray System
Tailored approach to meeting all large format needs.
The new TruView™ Flex offers a tailored approach to meeting your large-format, high-energy X-ray inspection needs. Its modular panels allow for virtually unlimited configurations to meet your unique requirements. Start with our standard 4'x4'x8' cabinet or put together your own cabinet using the 2'x8' panels, door modules, access points, and entry doors. With TruView™ Flex, the imaging chain is as flexible as the cabinet itself. With high-resolution sources available from 80kV to 450kV, your TruView™ Flex will provide all the punch you need. Detector options include digital flat panels, or the highest quality DR detectors, and CR plates from Carestream. Combined with Creative Electron's TruView™ imaging software or Carestream's Industrex, your Flex will be remarkable for both its speed of inspection and ease of use. The modular nature of the TruView™ Flex makes meeting your specific material handling needs a snap. From inline conveyors to rotary tables and robotics, your Flex will include exactly the features you require. This system's scalability also lends itself to future modifications and upgrades as your inspection needs change.TruView™ Flex is a truly bespoke NDT solution. Your TruView™ Flex will be proudly designed, manufactured, and fully supported by our facility in San Marcos, CA.